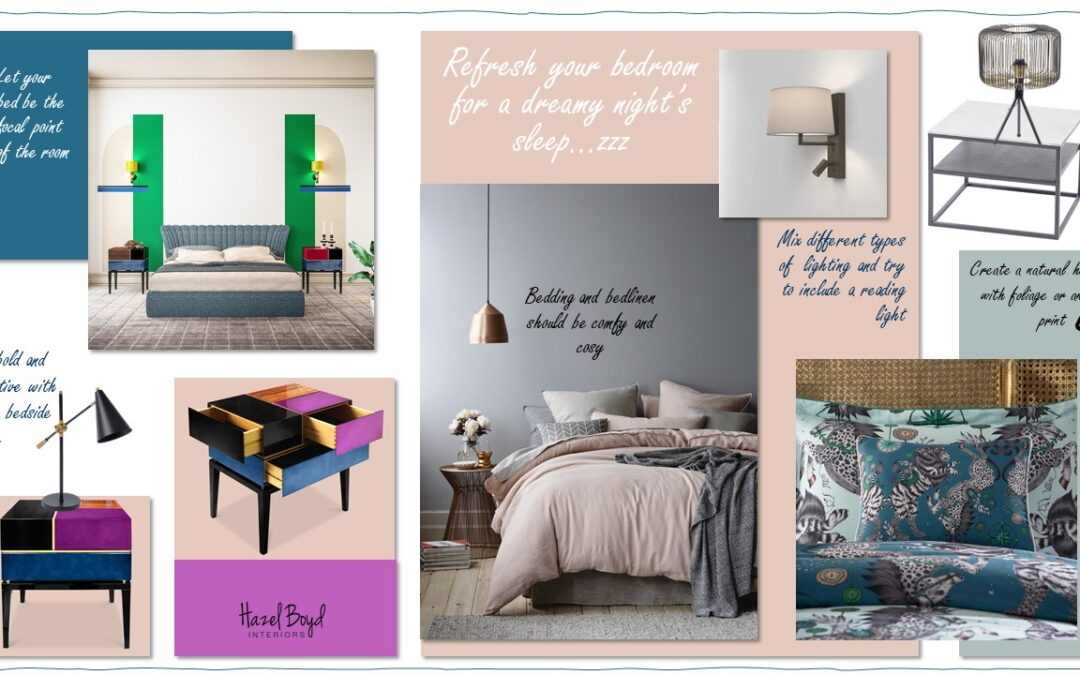 Applying a 'refresh' is a great way to update a bedroom without the full expense of a complete makeover.  Not only healthy for your pocket but healthy for the planet too!  Pick your investment pieces now, so you don't have to replace them in the future.
When you need a bed, there's no waiting around, you HAVE to get one whether you're changing your whole room or not. Moving into a new home? – YES, the bed is top of your list!
But do you really need to upgrade all your bedroom furniture? After all, a lovely new wardrobe is a dream item on your wish-list, but it's also a big expense, so it might have to wait until a full refurbishment can go ahead. Reducing your wardrobe footprint by maximising space in spare rooms will give a much more open feel to the room.
Here are my top tips for refreshing your bedroom NOW:
Tip 1
Your bed is the focal point of your bedroom and position is key to creating a balanced design.  Think about positioning the bed BEFORE any other furniture.  Make sure there is plenty of space around the bed for getting in or out on both sides and so you don't feel hemmed in.  Centring it to a wall or a facing window will give the best result.  Resist placing a bed against an adjacent wall, this is only acceptable in the smallest of bedrooms where there really is no other option.  And of course, don't forget a good quality mattress is important for a restful sleep.
Tip 2
With space on either side of the bed, continue to create your focal point.  Choose bedside cabinets that compliment your chosen look, these don't have to match your existing furniture, they are a standalone feature, so be adventurous!  My advice is 'it doesn't have to have a label – it can be what-ever you want it to be'.  You can choose an interesting piece, whether it's called a side table, a bedside table, a box or a shelf!
Tip 3
Most of us will read in bed on occasions, so lighting is so important.  To make sure you have a good night's sleep and resist eye strain late at night, a reading light is top of the list.  This can be combined with decorative lighting to change the mood.  Think desk lamps, led bendy 'eye' lights, wall lights and pendants.
Tip 4
Consider your bed-linen, pillows and quilts.  You will be living with your quilt and pillows for a considerable length of time, so make sure they are a good bed partner, comfy and cosy but at the same time allow you to breath and don't exacerbate any unwanted reactions!  And if you're an allergy sufferer, stay clear of feathers and check for hypoallergenic qualities in your bedding.
Tip 5
Create a mood.  The best thing about a bedroom is you can really reflect your own 'personal style DNA'.  Bedrooms don't have to be light and airy, how about a dark moody atmosphere to help you sleep in peace?  Dark colour schemes are known to aid a peaceful night's sleep. Go to town on some wacky wallpaper or bedlinen complete with flowers, leaves, bird or animal print to create a wonderful natural haven.   And not forgetting the windows – floaty voiles work wonders in the bedroom but make sure your REM is maximised by combining these with blackout curtains or blinds.